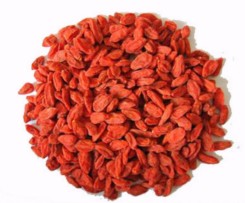 Ningxia Goji Berries
The Goji capital of the world

Biggest, sweetest, and the most delicious goji berries you can buy.
You know the old saying, "If it's good for you, it probably tastes horrible!" Well nothing could be further from the truth with our Ningxia goji berries. Packed with powerful antioxidants and nutrients, these dried berries taste delicious. Eat them like raisins, in fact substitute them for raisins when you cook and bake. Add them to your wholesome trail mix or toss a handful on your cereal. Boil them in some water and make a soothing cup of tea. The possibilities are endless!
Our dried goji berries contain 31% Lycium Barbarum Polysaccharide (LBP). Levels like that are unheard of! And we air dry the berries at a 90-95 degree temperature to keep it raw and preserve the enzymes and delicate nutrients. You've never seen berries bigger, sweeter or more vibrant red then our Ningxia Goji berries. And they contain less seeds than normal goji berries, so the kids will love them! And true to form our Ningxia Dried Berries contain no preservatives or artificial colors. They're all the goodness of Mother Nature.

Goji Berries
(Lycium barbarum L)
Premium Quality
Dried indoors at a controlled low temperature (90-95 degree F). This keeps it in its raw state to preserve the live enzymes and delicate nutrients.

Contain 31% Lycium Barbarum Polysaccharide (LBP), one of the highest in the industry.

Goji Berries grown without pesticides, herbicides, or synthetic fertilizers.

Selectively harvested for perfect ripeness and potency

No rotten berries, only perfectly ripened goji berries

100% Natural. No artificial preservatives, artificial food colorings, or sweeteners are added.

No irradiation or fumigation

Free of microbiological contamination, mold and yeast.