Wobenzym N
Natural Pain Reliever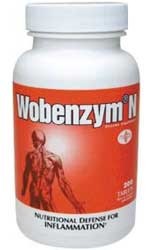 Wobenzym N

Natural Enzyme Formula
| | | | | |
| --- | --- | --- | --- | --- |
| NY43243 200 Tablets - $49.00 | | | | |
| NY43221 800 Tablets - $162.00 | | | | |
Wobenzym N Natural Enzyme Formula

Wobenzym N has been used by German physicians for over 25 years. Wobenzym N is the worldís most thoroughly researched systemic enzyme preparation, is second only to aspirin in over-the-counter sales in Germany and ninth overall for sales among all ďdrugsĒ in Germany. The only difference is Wobenzym N is not a drug; itís an all-natural supplement.

Directions

Dosage - Take 3 to 5 tablets, two to three times daily, between meals. If your pain is severe, you may want to increase your dosage to 10 - 30 tablets, followed by similar or smaller amounts two or more times during the day. Since Wobenzym N has blood-thinning properties, people on prescription blood thinners should consult their physician.
People suffering with headaches, arthritis, chronic back pain, including elite athletes with sport injuries will take pain relievers for pain. Long-term use of most pain relievers can cause kidney problems, gastrointestinal irritations/bleeding and ulcers. Most of you already know that pain-relieving drugs have many side effects, but if youíre in pain, especially excruciating pain, nothing matters except a quick remedy.

The good news is there is an all-natural remedy, itís called Wobenzym N. Itís not a drug; itís safe with no side effects. Itís simply healthy digestive enzymes. It will stop your pain quickly, improve your circulation and help you digest your food better all at the same time.

Wobenzym N was used for pain relief by East Germany Olympic athletes in the 1970s when corticosteroids were banned from international competition. Many European clinical studies have been conducted since 1979 on measuring the effectiveness of Wobenzym N on inflammation and pain from sports and athletic injuries. In all studies, Wobenzym N helped reduce the inflammation and pain. It also sped up the healing of the injuries.

The studies that support Wobenzym N are well documented. They have been published in a wide range of peer-reviewed journals. They work as well as over-the-counter pain relieving drugs, and they are safe. Many clinical studies have shown the product has no serious side effects and is safe, even when taken in large quantities or for long periods of time.