CHI MACHINE - Regain Health By Moving
Your Lymph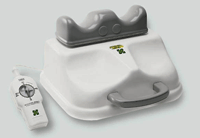 Sun Anacon Chi Machine

How to use the Sun Anacon Chi Machine

Using the chi machine doesnít require any effort. You just lie down on your back with your ankles on the machine. Set the timer for 5 to 15 mins and relax. The chi machineís side-to- side swing motion will do all the work in moving the lymph throughout your body.
| | | | |
| --- | --- | --- | --- |
| Sun Anacon Chi Machine | | | |
| Price: $490 | | | |
| (FREE SHIPPING) | | | |
Improving your lymph flow is essential in getting healthy. Flushing out toxic waste and moving white blood cells to fight foreign invaders and malignant cells are some important functions of the lymphatic system. On page 28, we will discuss the importance of exercising regularly to keep the immune system strong. Exercise does this by moving the lymph fluid throughout the body.

The big problem is sick people are always tired and donít have the energy to exercise. Sick people are sleeping and resting in bed most of the time. Also, many of them are in pain, and itís very painful for them to exercise. For many years, we didnít have an answer to help these customers.

Recently, we read about a naturopathic doctor who was trained in many advanced forms of lymphatic drainage techniques. He had advanced training in Dr. Vodderís Manual Lymphatic Technique, Chagnon Lymphatic Work, Chapman Reflex Lymphatics, traditional lymphatic drainage in addition to over 20 other forms of therapy with 25 years of private practice. It really caught our attention when he said the effects of 15 minutes on the "Sun Ancon Chi Machine" is equivalent to doing an hour of manual lymphatic drainage.

We tested this chi machine, and it worked wonders. It really helps with moving the lymph fluid throughout the body. Most people using it for the first several times will notice their urine turning very dark and having a strong odor. Thatís your lymph flushing out waste through your kidneys. Now, we have an answer for the sick who are too weak and tired to exercise. The chi machine is a wonderful tool.